The first day of Adult Play seminar was an interesting combination of all kinds of different approaches to play and playfulness, and how they relate to toys, games and other playful things.
The sessions from the first day touched upon DayZ, ARGs, political larp, play in the workplace, design games, talking chairs, adult toys, miniatures – and of course, the Goatse of Grief Play.
The first session started with a dose of DayZ. Two different papers were presented about the zombie apocalypse game, first one by Lawrence May and focusing on how players document the game through pictures, evoking history and intertextuality while doing so, drawing upon, for example, war photography.
How do gaming experiences feedback into historical memory? Getting deep in this DayZ talk #adultplay2015

– @t0mm7
DayZ players engage in historical discourse via in-game photography. Use of gaming spaces far beyond gaming, but also play? #adultplay2015
The second paper was by Marcus Carter and Fraser Allison and used a large quantitative dataset to analyse kidnapping as an activity within DayZ. They noticed interesting correlations, like noting that older players are less likely to participate in kidnapping, and players interested in role-playing are more likely to kidnap.
Best one sentence summary ever: "Figure 1: Enjoyment of kidnapping and force-feeding other players declines with age." #adultplay2015
re: previous and current talk. The DayZ kidnapping pics are really eerily reminiscent of both ISIS and CIA photos. #adultplay2015
Next, Thaiane Oliveira presented an alternative reality game created by her students around World Cup in Brazil. They had very unique problems, engaging people in a game while protests against the World Cup were still underway. Most ARGs aim for the This Is Not A Game (TINAG) aesthetic, while in this instance they had to emphasize how this is only a game in order to guarantee everyone's safety.
Issue of player safety in LARP that mirrors real-world protest activity #adultplay2015
Using the format of ARGs to underplay the political transgressiveness of social commentary. "No, this is only a game!" #adultplay2015
I continued with a similar theme, discussing larps as resistance and focusing on three Finnish larps: Dublin2, Halat hisar and Baltic Warriors: Helsinki. I concluded that Dublin2 and Halat hisar were agonistic, Baltic Warriors less so, and linked the larps to other new forms of political expression.
I really like how Halat Hisar was used to communicate a gestalt of the Palestine narrative. Distinct from propaganda. #adultplay2015
#adultplay2015 and now, the zombie vikings
The second session started with Olli Sotamaa presenting his work interviewing people who develop games on their relation to play and playfulness. Not surprisingly, making games had changed the relation they had to games: playing become work, often ceasing to be playful. I found Sebastian Deterding's comment especially enlightening: he lamented the ease in which people fall back to an easy dichotomy between the old days of clear play-work separation and modern capitalism, where all play falls into the service of work.
Turns out, playing "for work" is not that fun. Players may turn to other modes of gaming e.g. boardgames/LARP/RPGs to escape. #adultplay2015
@RafaelBienia Discussion of game rooms specifically - CEOs create, but middle managers may disapprove if "slackers" use them #adultplay2015
This seemed to have struck a nerve with game scholars:
At lunchtime, some of us had a (brief) discussion about play becoming work - not in industry but as game researchers. #adultplay2015 @sotku
I, too, recognize how playing games has often ceased to be about play, and become work. A games scholar simply has to know a great deal about games, so playing games has become a duty. Drawing a line between work and play becomes very difficult, when play is work.
Next, Otso Hannula discussed design games, games that are used to help in solving difficult design problems. This lead to a fight over whether they are games – something that seems to happen with great regularity in conferences like this.
Best quote so far at #adultplay2015: "Whoa whoa whoa!" - @aakoo
"But what IS a game?" fight breaks out <- every game studies conference is a countdown to this moment. #adultplay2015
The last paper of the second session was written by a group of people: Annakaisa Kultima, Timo Nummenmaa, Heikki Tyni, Kati Alha, Ville Kankainen and Frans Mäyrä. They wrote about MurMurs, playful chairs that react to being sat upon. The reactions to the chairs were mixed, from delight to intense hate.
Playful furniture. My kids would program these to make fart noises. (Note: sometimes when I say "my kids" I mean "I") #adultplay2015
I remember those chairs commenting on my presentation. And recall Espen Aarseth hating them during his keynote. #adultplay2015
The second session was followed by a keynote from Jaakko Stenros. The keynote expanded upon some of the themes he discussed in the dissertation he defended just a couple of days ago. The keynote contained quote-worthy statements like
"All systems can be played; all systems can be griefplayed."

"If you encourage play, some of it will be transgressive."
He also showed us two images from his dissertation, the brilliantly named Flower of Play and the Goatse of Grief Play.
"The Flower of Play, The Goatse of Grief Play" I love Jaakko @LizardEnigma Stenros <3 #adultplay2015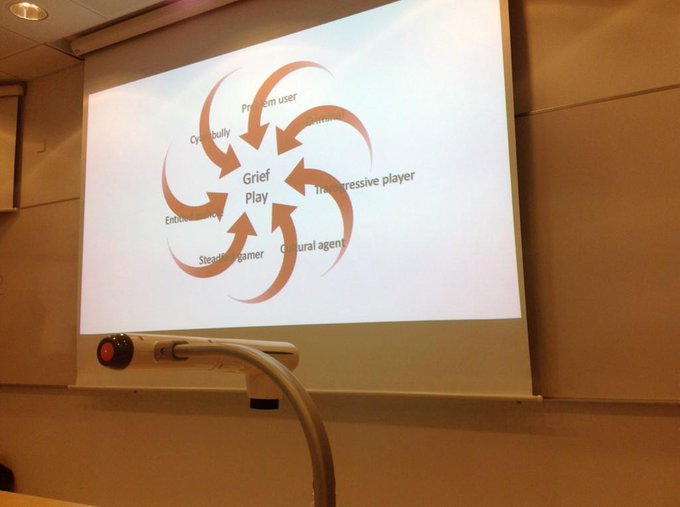 There it is! 10/10 would #adultplay2015 again.
The last section dealt with object play. First, Katriina Heljakka talked about the rhetorics surrounding adult toys, noting for example how that term tends to imply sex toys. Toys for adults tend to be framed in different terms, focusing on other aspects than playfulness.
"Toyification of sex" - Katriina Heljakka - "Adult" toys vs Adult "toys". #adultplay2015
"This product is not a toy but a desk accessory." #adultplay2015
The last presentation of the first day by Nikola Adamus discussed miniature wargaming. It noted, for example, the material differences between miniatures and (other) toys: miniatures tend to be made from different materials. At least some of the researchers in the audience were very exited to hear about a neglected part of game studies.
A paper on miniature wargaming. Oh yessss <3 #adultplay2015
#adultplay2015 1st ed of 40K expected and encouraged use of toys as pieces in this way.
Adult Play continues tomorrow, with themes like sexual play and playing parents.